The solidity of 170 Amsterdam's exoskeleton alludes to the nearby cultural buildings at Lincoln Center as well as the ornate Beaux-Arts buildings of the Upper West Side.
170 Amsterdam is a 20-story residential building on Manhattan's Upper West Side, where West 68th Street terminates at Amsterdam Avenue. The tower sits between Central Park to the east and the landscaped open space of the Lincoln Towers superblock to the west, and the building's architecture is derived from its location between these large green spaces.

The long narrow site demanded an innovative solution to maximize usable interior space. By moving the structure to the outside of the enclosure, floor area that would have been occupied by columns was freed up; the solution also visually defines the building, while offering residents window lines that are unbroken by internal columns.
The building's angled columns intersect at different heights, giving the appearance of a façade in motion. The structure's solidity and permanence was inspired by the muscular buildings of lower Amsterdam Avenue and Lincoln Center, as well as the ornate Beaux-Arts buildings of the Upper West Side with their heavy rustications. The concrete used is the result of a specialized mix that gives the material the appearance of limestone, a further nod to the nearby cultural buildings.
At ground level, the columns create a dynamic streetwall, with the exposed structure angling into the sidewalk and piercing the solid form of the building canopy. At the top, the building's volume ends while the skeleton continues, creating a structural canopy for the rooftop spaces and evoking the branches of trees.
Inside, the exposed concrete columns angle through the public spaces of the building, piercing the floors and walls of the lobby, common rooms and corridors, and disappearing into the ceiling above.
Site & Context
Diagrid Concept
The building is composed of a core & slab structure, energy efficient high performance glazing, and an exoskelton column structure, which, combined with the extended floor slab, acts as a bries soliel.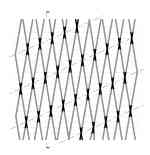 Interiors, by Handel Architects, are a fresh take on a prewar classic: white oak floors, large format angled tile floors, and traditional subway tile walls.