288 Pacific's masonry facade frames a series of volumes in delicate metal latticework and glass.
288 Pacific Avenue is a new 33-unit residential development in the Jackson Square area of San Francisco. The building takes design cues from the historical warehouses in the area, offering a modern interpretation of the brick low-rise structures that still adorn the neighborhood.
The site wraps the north and east sides of the Old Ship Saloon, a designated historical site at the intersection of Battery and Pacific, and the massing of the new building has been articulated to respond to this adjacency in a sensitive way. 288 Pacific is carved to include multiple open space opportunities, and the building's individual volumes vary in height, which allows the building to relate to the variety of building scales surrounding the site.
Site & Context
Exterior materials are a balance between the historical fabric and the more recently renovated structures in the district.
Jackson Square is one of San Francisco's oldest neighborhoods and over the past several decades many structures have gone through some type of renovation or adaptive reuse.
288 Pacific builds on the idea of masonry as the main framework of the structure with metal and glass as an interlacing fabric that melds the project together. The masonry facade includes the vertically punched openings that can be found on neighboring historical buildings, while the more delicate lattice metal frame curtainwall draws inspiration from the steel sash windows of nearby warehouse buildings.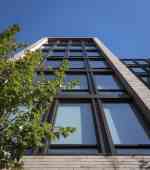 Inside, the interiors are rooted in the historic vernacular of the neighborhood.
The lobby is a blend of heritage marble and painted paneling, detailed with a modern touch. The furniture is as influenced by the Art Deco as it is Italian Mid-Century, echoing the window displays of the surrounding antiques galleries.
The residences are graced with 11-foot high ceilings, wide plank floors, fumed oak cabinetry and plumbing fixtures by Waterworks.
For 288 Pacific, Handel Interiors created a modern vernacular with Italian Mid-Century influences.