33 Eagle Street, Greenpoint Landing
The 100% affordable building at 33 Eagle Street is defined by rusticated brickwork, exposed steel, and divided-light windows.
33 Eagle Street is the second residential building to be built as part of the new Greenpoint Landing development in Brooklyn. Located on 22-acres of waterfront in Brooklyn, the Greenpoint Landing plan transformed a formerly industrial area into a new multi-building development. The plan re-established the neighborhood's waterfront connection through the creation of new streets, new housing, new waterfront parks, and a new public school, all designed to integrate into Greenpoint's already thriving, diverse community.
33 Eagle Street includes 98 100% permanently affordable units, and the building holds the corner at the intersection of Eagle Street and West Street. Materials include a mix of brick and black metal, meant to evoke Greenpoint's industrial past, while a stone sign embedded in the façade marks the intersection of Eagle and West, as was the local practice in 19th century Greenpoint. Black accent brick is recessed and rusticated at both the ground and 7th floor facades to create visual interest. The darker bands are carried into the lobby space as tiling, visually connecting the interior to the facade.
A private landscaped area in the form of an interior garden is broken into three distinct garden rooms, each defined by a rich palette of paving materials and strategic plantings. The spaces are connected by 'bridges' spanning stormwater cleansing swales which in turn are connected to a stormwater detention tank set below the main terrace. Trees in above-ground planters placed around the subterranean chamber frame the space and offer window-like views into other "rooms" in the sequence, allowing for multiple uses by groups and individuals.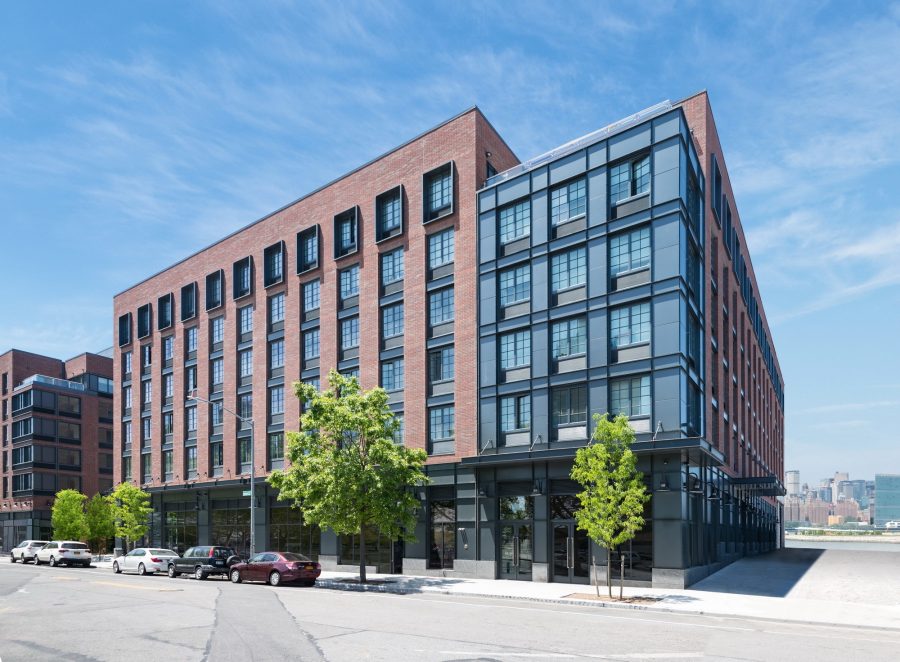 We designed three other 100% affordable buildings at Greenpoint Landing.