525 West 52nd Street creates two volumes mid-block, cladded in red brick and metal.
525 West 52nd Street is a 405-unit residential building on a through-block site in Manhattan's Hell's Kitchen neighborhood. The building's design is expressed through an industrial palette of brick, metal, and glass found in many of the homes and warehouse buildings in this part of the city.
525's mass has been shifted toward the center of the 53rd Street side of the block, facing the larger Mercedes House project, to allow the weighting along 52nd Street to remain lower-rise and contextual. Separating the 52nd and 53rd Street volumes is a central open space, allowing light and air to flow between the volumes, and between the adjoining buildings to the east and west.
The red brick, dark metal, and glass that make up the facades of the building offer an aesthetic that is modern in design, while respecting the architectural history of the area. Along 52nd Street, a simple brick and punched window facade is employed to adhere to the simplicity of the existing streetscape. Along 53rd Street, the brick base is broken up as it rises into separate bays, creating a folding pattern along the façade. These solid columns dovetail with a separate glass and metal volume above, which is pushed back from the street. This volume steps up in a series of balconies, mimicking the prow of a large ship, facing the Hudson River.
Building amenities are extensive.
Indoor amenities include: gym with fitness studio, massage room and nutritionist office; golf room; spa; screening room; library; gaming room; pet grooming area; sports bar; business center; bike room; and party room. Outdoor amenities include: bocce pitch; shuffleboard court; ping-pong tables; grill and dining area with a fire pit; outdoor class & flexible space; party room; kitchen; and lounge.
At grade, retail lines both facades. A through-block lobby is accessible from both streets, providing access to both buildings as well as a programmed public courtyard between the buildings.
Interior design inspiration was drawn from the industrial history of the site.
The industrial influence can be seen in many of the material selections, from the polished concrete floors and wood clad walls to the monolithic, cor-ten steel forms which separate the expansive lobby into a series of comfortable gathering spaces.
Combined with these industrial touches, refined wall coverings and furnishings balance the palette, bringing a feeling of luxury to the project.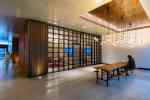 Inside 525 West 52nd Street, concrete and steel combine with extensive artwork and warm finishes to create a modern, comfortable living experience.