Serif Residences and The Line Hotel
Serif and The Line Hotel's textured facade offers a contemporary interpretation of the surrounding masonry context.
Serif and The Line Hotel is a new 12-story mixed-use hotel and residential building occupying the majority of a triangular block where San Francisco's Union Square, Tenderloin and South of Market districts meet. The 34,000 sq. ft. site shares the block with the historic Warfield Theater.
The scale and aesthetic of the project are designed to relate to the context of adjacent buildings in the Tenderloin and along Market Street. The building massing addresses the challenging proportions of the irregularly-shaped site while also carving out a generous outdoor plaza for the public realm on Turk Street.
Glass fiber reinforced concrete cladding takes cues from the masonry buildings of the surrounding area, while the patterning and textured character of the façade offers a contemporary interpretation of traditional punched windows in the neighborhood. Designed to read as a continuous wrapper around the building, the façade also employs variation and modulation in window openings and panel sizes to correspond to interior units for the hotel and residential spaces within.
Residents can access the main lobby from either Market Street or Turk Street. The hotel lobby, also accessible from either street, provides a mid-block connection between the Mid-Market and Tenderloin neighborhoods. Reconstructed and widened sidewalks along Turk Street offer flexible outdoor spaces for gatherings, exhibits, and small performances. A series of retailers with storefronts that feature floor-to-ceiling windows provide a transparent connection to the street.
Serif and The Line Hotel includes 242 residences, 232 hotel keys, retail, and community facility space run by local non-profit Magic Theatre, who will launch its community-focused Magic Lab aimed at bringing together youth, education, community-building, workforce development, and the arts.
Site & Context
Facade Development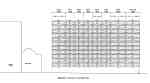 Residential Interiors by IwamotoScott Architecture