Galle Face Waterfront Master Plan
Situated along Galle Face Beach, this master plan organizes residential, hotel, office and retail uses in a multi-tower development.
Handel Architects led the Master Planning for this ten acre development located along the Galle Face Green promenade near the heart of the Sri Lankan financial and business district. When completed, the total build-out will include a 503-key hotel, 646,000 sq. ft. of office space, 603,000 sq. ft. of commercial retail space, and 406 residential units in two towers. The hotel tower, designed by Handel Architects and operated by Shangri-La, was completed in 2017; the remaining components are currently under construction.
The site features stunning views of the Indian Ocean, and the design approach explores the relationship between indoor and outdoor spaces by introducing vertical louvers to create a "transition zone" layer before entering formal spaces. The use of architectural projections with a white finish on the tower facade creates a modern feel, with influences from the local tropical vernacular.

Program and Massing Distribution Studies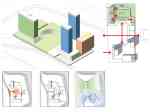 Program Distribution
Handel Architects designed the Shangri-La Hotel as the first phase of the master plan.