Crossing DC inverts the traditional DC central courtyard, turning the block inside-out.
Crossing DC is a new 800-unit residential building in Washington, DC's Navy Yard neighborhood. The design approach turns the block inside-out, inverting the traditional central courtyard with four smaller perimeter outer courts "cut" into the face of each street wall.
The Navy Yard context was actively evolving as the project was being designed, with a number of new buildings under construction nearby that presented a variety of design styles and façade expressions. In order to ground the building visually, Crossing DC borrows architectural language from the monumental character of DC's famous federal and cultural buildings, with a façade expression that is light in color but weighty. This frame wraps the building, and then is cut to reveal four courtyards as well as the "softer" inner frame of a smooth, continuously glazed surface. The outer "shell" extends all the way down to ground plane, framing the retail spaces.
By scooping out parts of the building, the design maximizes the number of apartments with views out to the street.
In contrast to the traditional DC courtyard perimeter buildings where most of the interior units face into a courtyard, Crossing DC creates smaller, more intimate neighborhoods within the larger building, giving each apartment visual access to the street.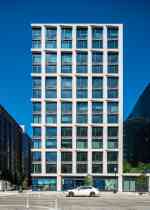 A 20'x20' pedestrian easement was required to run though the site, and the team embraced the concept by enlarging it and making it an active public space.
A warm metal was used to frame this space, in another nod to a softer feel once past the building's outer shell.
The rooftop is the largest landscaped residential rooftop in DC.
Designed as a "meadow in the sky," the mechanical equipment was cleverly hidden so that the rooftop would feel like an uninterrupted experience for residents and guests.