The Pacific transformed a former dental school building into a striking architectural statement.
The Pacific is a new luxury condominium located in San Francisco's Pacific Heights neighborhood. The project included the adaptive reuse of a former 1960's dental school into a multifamily residential building, as well as the design of ten townhomes on an adjacent surface parking lot.
The main building had essentially been built like a hospital, with high ceilings and large floorplates, which translated well to a luxury residential building: the floor plates, originally designed for heavy dental equipment, allow the units to incorporate the existing 12' high floor-to-floor span, creating high ceilings and gracious interior living spaces throughout the project.
At the building's roof, the team kept the outline of an existing two-story mechanical penthouse but converted it into four large, residential duplex penthouses, each with expansive private terraces. On the terrace level, an intimate indoor-outdoor owner's lounge serves all the residences.
The heavy precast concrete façade was removed and replaced with a window wall system composed of champagne colored metal panels and floor-to-ceiling glass. Window openings were made much larger, such that they are now the dominant feature in the façade. Additionally, triangular bays that are as tall as the windows extend past the building face, so that each apartment can look down onto the streetscape below. These "glass apertures" create a strong geometric presence and textural quality, while breaking up the building's mass.
The Pacific and the adjacent townhomes are LEED Silver.
Urban Approach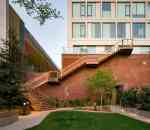 The townhouses were designed to relate in scale to the Victorian houses throughout the neighborhood, while visually tying to the main building through their pitched rooflines and angular bay windows.
These units offer a home-like experience with larger spaces and more privacy. The exterior facades are composed of red cedar siding combined with silver metal panel and silvery glass that is lined in a brushed aluminum trim.
Interiors use natural materials of marble, limestone, oak, raw silk, onyx, and bronze to convey a timeless luxury.