Fabricating the Panels of the National September 11 Memorial
Surrounding the memorial pools at the National September 11 Memorial is an eight-foot wide and a two-foot high water table. The names of the victims are incised into darkly patinated bronze panels and appear as shadows during the day, marked by the absence of material. At night, the hovering wing-like profile of the panels is illuminated from within, lighting each name with a soft glow.
The panels are simple in appearance but are actually quite complex, with precisely engineered and completely concealed heating, cooling, lighting and thermal expansion mechanisms.
The creation of the panels was done over a period of months. They are made of bronze which has been treated with a ferric based patina, and then stencil-cut to create the names.
A complex heating and cooling system, designed by New Jersey-based Service Metal Fabricating, keeps the panels cool in summer and warm in the winter.
Stencil-cut lettering and underside heating and cooling system
Panels prior to being patinated
Patina process
Final Panels Installed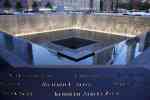 Be the first to hear about our latest news by signing up for our newsletter.