Winthrop Center includes Boston's next great public space, a year-round gathering place programmed with events.
Located in Boston's Financial District, Winthrop Center is designed to give new definition and vitality to this part of the city. The building will be a beacon on the Boston skyline, while showing deference for the adjacent One Winthrop Square and other neighboring Art Deco-era buildings built in the 1920's and 1940's. Though technically one tower, the massing of the building splits into two as it rises, and each form is treated differently on the skyline.
Winthrop Center seeks to enhance and revamp the existing Winthrop Square, creating new open space to serve Boston, and linking together several other adjacent outdoor spaces. A grand new public space entitled the Connector will anchor the building and traverse the site between Federal and Devonshire streets. This space is envisioned as a year-round gathering place with programmed activities such as art shows or farmer's markets, as well as more permanent retail establishments and restaurants.
Winthrop Center includes over 1.8M sq. ft. of residential, office, and retail space, designed to LEED Gold standards. The office component of the project is Passive House certified, the most rigorous energy efficiency standard in the world, making Winthrop Center the largest Passive House building in the world.
The site's through-block nature creates a T-shaped plan and allows the tower to relate to two different sets of context.
To the west, from Winthrop Square, a much more formal, enclosed portal threshold is utilized, creating a dramatic emergence into the Connector space. The entry scales down the overall tower so as to complement and show deference to One Winthrop Square. Above the Connector, the office portion of the building gently curves around Winthrop Square to the west, creating an inflection in the massing. The undulating nature of the curtainwall creates strong vertical impressions, and is intended to catch and reflect the light in a dynamic fashion. At the tower top, the undulation becomes more pronounced, creating a skyline presence.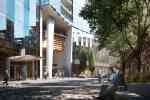 On the busier Federal Street side, a large glass entry façade in an oversized stone frame blurs the boundaries between indoor and outdoor space.
Connecting the through-block site is the "Connector," a distinctive gathering place active through all seasons and a focal point for activity. This new "urban room" is intended to be inherently civic in scale and function. It is a public connector, a celebratory arcade conceived as a signature space. A mezzanine will wrap the interior to provide overlooks across the space. Full of restaurants and vendors, and a continually changing program of performance activity and public events, the space becomes a scaffold for year-round urban interaction.
Designing Winthrop Center, the World's Largest Passive House Commercial Building
An in-depth look at the design of the world's largest Passive House project.
View Case Study